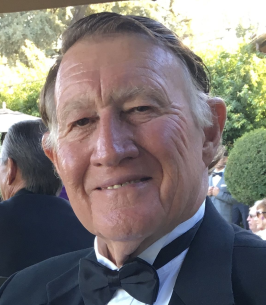 I'm very sad to report the passing of a leading offshore safety researcher and long-time colleague, Dr. Charles Smith. Charles was a pioneering structural engineer who joined the US Geological Survey's Conservation Division (then the offshore safety regulator) in ~1977 to establish the Technology Assessment and Research (TAR) Program. With the thinnest of budgets, Charles formed partnerships that addressed the gamut of offshore safety issues. Some of his accomplishments:
Working with the Offshore Technology Research Center (Texas A&M) and others, Charles sponsored projects that led to the successful investigation of deepwater production concepts including TLPs, Spars, FPSOs, and semisubmersibles. These designs are now the mainstays of deepwater development worldwide.
Organized well control projects that included the establishment of the deepwater well control research facility at Louisiana State University.
Established the first ever offshore earthquake measurement network in the Pacific Region. The measurement system at Platform Grace in the Santa Barbara Channel successfully recorded 5 earthquakes and the structural responses at multiple locations on the platform.
Conducted research that led to new hurricane design standards for offshore structures and topsides equipment.
Working with colleagues at Berkeley and Stanford, conducted groundbreaking research on human and organizational factors affecting offshore safety. This was the basis for important safety culture studies that followed.
Studied pipeline risks and corrosion management for structures and pipelines.
Studied decommissioning options and their comparative environmental effects.
Assessed arctic development options including gravel and ice islands and monopod concepts.
Conducted structural reviews leading to the renovation of the Ohmsett spill response test facility.
Participated on organizing committees for the International Conference on Ocean, Offshore, and Arctic Engineering (OMAE).
Along with representatives from Norway, the UK, Brazil. Canada, Mexico, Australia, and New Zealand, founded the International Committee on Regulatory Authority Research and Development (ICRARD).
Charles was the only offshore regulatory engineer to be selected as one of 10 finalists for the prestigious NSPE Federal Engineer of the Year award. (Keep in mind that the US government employs more than 130,000 engineers.) In 2009, the year of his retirement from Minerals Management Service, he was inducted into the Offshore Energy Center's Hall of Fame (Galveston, TX) as as a Technology Pioneer for Health, Safety, and the Environment.
After retirement Charles moved to Newfoundland and continued working on offshore safety issues with Memorial University, Canadian regulators, and industry representatives.  He and his wife Elaine built a lovely home overlooking the water in Bay Roberts. He was proud to be a citizen of both the US and Canada, and both countries were beneficiaries of his long and enormously successful career. Here is his obituary.