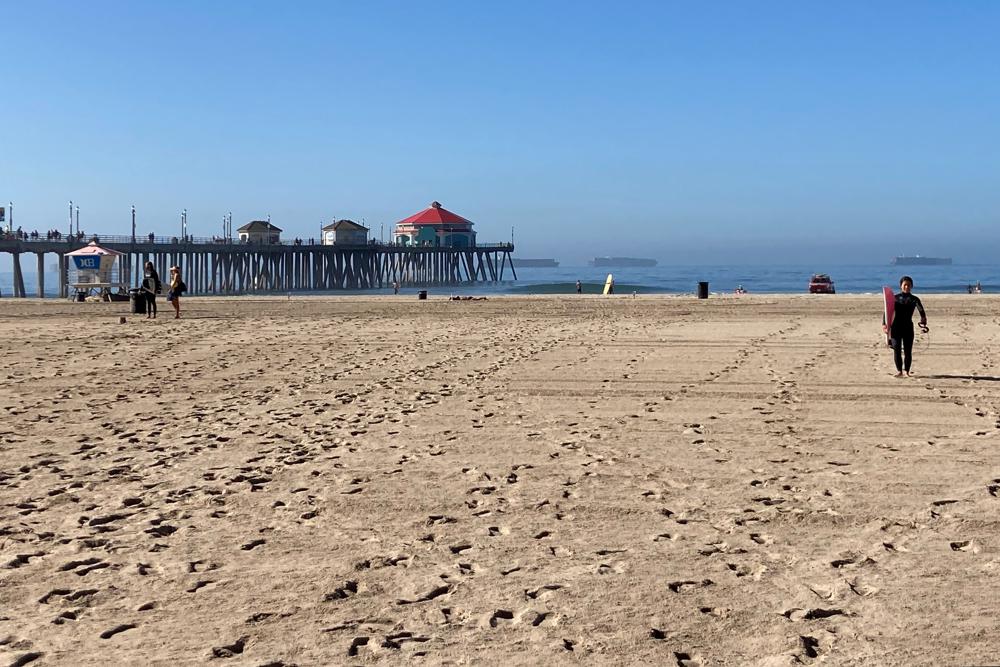 Huntington Beach reopened:
Matt Harty, a 61-year-old retired construction supervisor from the nearby community of Seal Beach, said he was glad to return to the waves in Huntington Beach with other early morning surfers. He said he's seen oil spills before and this one didn't seem that bad, and in fact, the beach looks great.

"This is the cleanest I've seen the beach in years, right, because there's been nobody here for a week," Harty said. "I think they cleaned it up really well."

AP 10/11
While the size of the spill isn't known, the Coast Guard on Thursday slightly revised the parameters of the estimates to at least about 25,000 gallons (95,000 liters) and no more than 132,000 gallons (500,000 liters).

AP 10/9
Comment: Including a lower estimate that is 80% less than the initial estimate is hardly a slight revision, especially when this lower limit is based on an assessment of pipeline data.
So far the impact on wildlife has been minimal – 10 dead birds and another 25 recovered alive and treated – but environmentalists caution the long-term impacts could be much greater.

AP 10/9
Comment: One gets the sense that some anti-production activists are disappointed that the spill is not the environmental disaster needed to end oil and gas production in U.S. offshore waters, that the pipeline operator is (at most) only partially responsible, and that the primary regulators have been doing their job despite outdated regulations and jurisdictional uncertainty.
So far, two proposed class-action lawsuits have been filed on behalf of a disc jockey who runs beachfront events in Huntington Beach and a surf school that operates in the city known as "Surf City USA."

ABC News
No comment 😃