Taylor Energy's Mississippi Canyon Block 20 "A" platform was destroyed by a massive mudslide during Hurricane Ivan in 2004 (see illustrations below). Per Naval Research Laboratory sensors, "Ivan the Terrible" generated freak waves as high as 91 feet, and NRL computer models suggest that wave heights may have exceeded 130 feet. The changes in pressure resulting from the motion of the huge waves triggered the flow of the unstable Mississippi delta sediments. The platform was swept 500 feet downslope and the wells were severed and buried under a deep layer of sediment. That was essentially the end for Taylor Energy, as the company would spend the next 17 years locating and plugging wells, decommissioning piping, collecting seepage, and mitigating pollution. Since 2008, when Taylor sold its remaining oil and gas assets, the company has been solely engaged in the MC-20 response.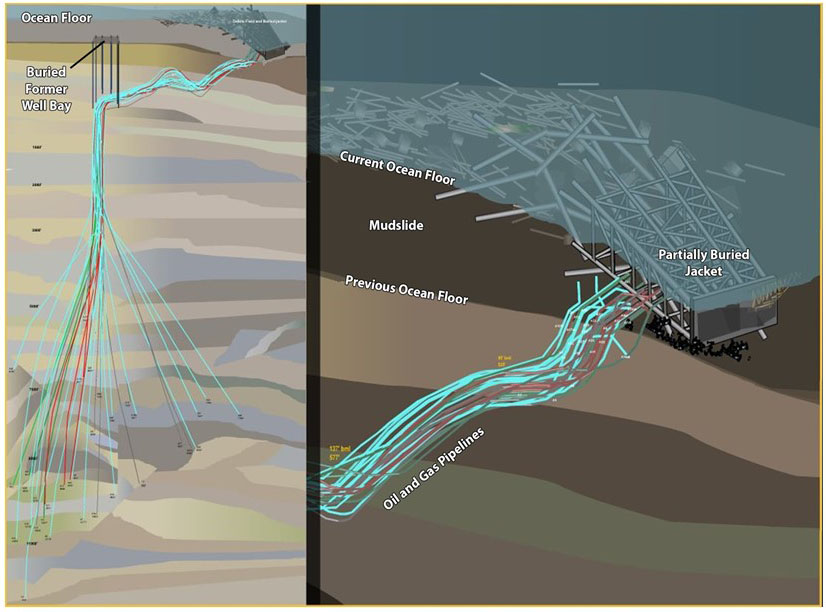 Last week, Taylor and the Justice Department signed a consent degree that transfers the company's remaining assets and control of the decommissioning trust fund to the Federal government. Questions remain as to whether the platform and wells could have been better designed to withstand the mudslide (note that the platform was installed and operated by BP prior to being sold to Taylor), and whether more should have been done to mitigate the seepage. Taylor does a good job of making its case at their response website.
Few offshore operators would argue that what happened to Taylor couldn't happen to them. That would be brash and foolish. Hopefully, the companies that remain have absorbed the lessons of MC-20 and are applying them to their operations and management programs.