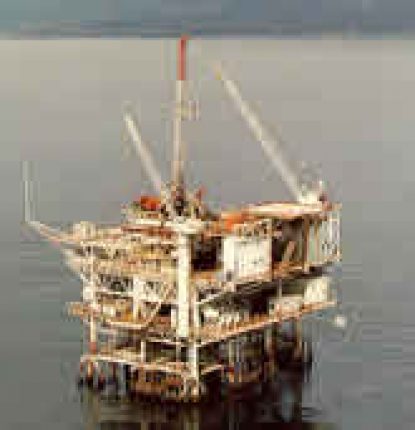 Platforms Hogan and Houchin were installed 52 and 53 years ago respectively on Lease OCS P-0166 in the Santa Barbara Channel. The lease, which had initially been issued to Phillips Petroleum, Cities Service Oil Co., and Continental Oil Co., was assigned to Signal Hill Service effective 2/19/1991. The assignment was approved despite concerns within the Minerals Management Service (MMS) about the financial strength of Signal Hill and the technical competence of Pacific Operators Offshore Inc (POOI), the affiliate that would operate the facilities.
Three decades of frustration followed for MMS, BOEM, and BSEE regulators in the Pacific Region. Per the terms of the assignment, Signal Hill was required to establish an Abandonment Escrow Account, funded from oil production revenue, with a "target balance" equal to the abandonment cost, plus 25 percent. These payments were seldom made in a timely and consistent manner.
Compliance with safety regulations was also poor. In that regard, violations data are consistent with anecdotal reports from inspectors. POOI accounted for a high percentage of the regional Incidents of Noncompliance (INCs), and Platforms Hogan and Houchin had INC/inspection ratios that were far higher than Pacific or Gulf of Mexico platform averages (see inspection data below).
INC's
Warnings
Component
Shut-ins
Facility
Shut-ins
POOI
485
562
46
All companies
(Pacific Region)
1965
3103
281
POOI % of total
24.6
18.1
16.4
A 9/20/2020 Inspector General report found significant irregularities in the use of funds from an offshore production company's escrow account. While the IG's summary (pasted below in its entirety) doesn't say so, the company is assumed to be Signal Hill.
The OIG investigated allegations that an offshore oil and gas production company improperly paid operational expenses with money from an escrow account dedicated to paying expenses related to decommissioning offshore platforms in Federal waters.
We found that the company routinely used funds from its decommissioning account to pay what appeared to be various operating expenses. We also found instances where the company appeared to claim reimbursement for duplicate expenses.
Based on our findings, the company submitted credits and adjustments, totaling $1.9 million, to the decommissioning account to cover these expenses and other disbursements. In addition, we referred a number of unresolved expenses for non-decommissioning activities to the Bureau of Safety and Environmental Enforcement and the Bureau of Ocean Energy Management for resolution.
We referred this matter to the U.S. Department of Justice, which declined to pursue it.

DOI OIG, 9/20/2020
Questions:
Why haven't BOEM, BSEE, or the OIG released the full report? The public and the offshore industry certainly have a right to know given the potential costs to the taxpayer and the reputational damage to the industry.
Why was a company with such a poor payment and compliance record allowed to withdraw funds from their decommissioning account to cover operating expenses?
Signal Hill owes the State $287,000 in unpaid rentals. What unpaid royalties are owed to the Federal government?
BSEE (2014) estimated decommissioning costs of $74.3 million. What is the current estimate? What is the remaining balance in the escrow account?
How do the escrow account irregularities affect the decommissioning obligations of prior lessees?