This is an excellent tribute written by two brothers who lost their father in the Ocean Ranger tragedy. I highly recommend that you listen and reflect.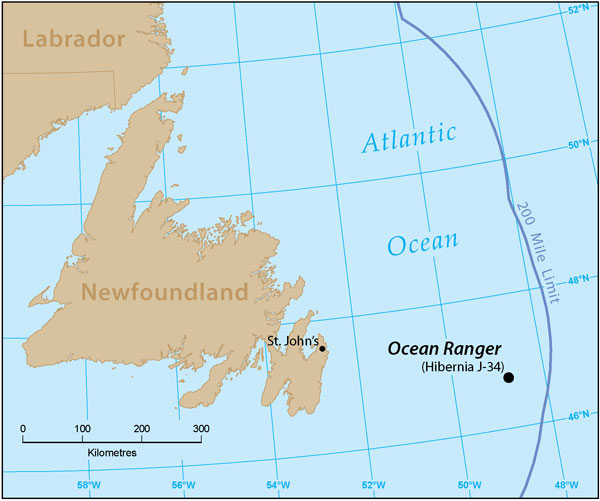 Condensed below is important background information from my notes and from an outstanding presentation by Howard Pike in St. John's Newfoundland in 2017.
84 men aboard; no survivors
Largest semisubmersible drilling rig of its day
US registered MODU
The "unsinkable" rig had weathered more than 50 significant storms
Unlike most semisubmersibles, the ballast control room was located in one of the legs (starboard column No.3). At drilling draft, it was just 28 feet above mean sea level.
Water depth was 240′, rig was moored with 12 anchors
Ballast control operators had minimal training
Incident with the ballast control system just a week before the disaster.
On February 14th, the Ocean Ranger was battered by a severe storm; wave heights up to 21m; rogue wave damaged deck items on nearby Sedco 706
Crew stopped drilling when the heave exceeded 15′, forced to shear the drill pipe during the disconnect process
Crew did not deballast to the storm draft from the 80′ drilling draft
Waves broke portlight in the ballast control room
Salt water soaked the ballast control console
Short circuits or inadvertent operator commands caused ballast tank valves in the bow to open.
Water flooded the forward ballast tanks, and the rig began to list toward the bow.
Crew inadvertently opened more pontoon valves
Forward list passed the point of recovery
The Ranger's standby vessel, the Seaforth Highlander, was contacted but was delayed by sea conditions
At approximately 1:10 a.m. on February 15 th , the Ocean Ranger began sending mayday signals.
Zapata Ugland and Sedco 706, working in the area, sent their standby vessels
At 1:30 a.m. the Ocean Ranger's radio man sent his final transmission. The crew was boarding the lifeboats.
Investigators later determined that as the lifeboats descended, violent winds threw them against the side of the rig, damaging some lifeboat hulls before they ever touched the water.
Crew did not have survival suits
Seaforth Highlander attempted unsuccessfully to rescue survivors from a damaged lifeboat
At the time of the Ocean Ranger tragedy, 3 rigs – the Alaskan Star, Rowan Midland, and Zapata Saratoga were working on Georges Bank in the US North Atlantic. The nor'easter had passed over Georges Bank before strengthening as it moved toward the Grand Banks. Among the small Georges Bank drilling community there was a kinship with those working in the even harsher environment on the Grand Banks. 40 years later, we are still greatly saddened by what transpired. Many lessons were learned and applied, but the ocean is unforgiving and we must continue to assess storm preparedness. Reflection on past tragedies is an important part of the process.